Redwood AutoXpo 2021 and Covid-19
Covid-19 is still with us in 2021
We are working with our city officials in modifying our show so it would be Covid compliant. Wish us luck and stay tuned for more upcoming information. Redwood AutoXpo wants you to know that those who have already signed up and paid their registration fee will be offered a choice of receiving a refund or rolling over fees to next year, or they can donate their entry fees to the Fortuna Redwood AutoXpo scholarship fund. Our tentative dates for this year's show are July 23 – 25, 2021.
New Event: Movie Night at Rhoner Park- See Events - Come Enjoy American Graffiti for FREE
Fortuna Redwood AutoXpo 2021 • July 23, 24 & 25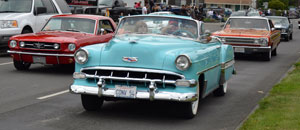 The 29th Annual Redwood AutoXpo in Sunny Fortuna Begins Friday, July 24th
Located on the beautiful and rugged North Coast of California,
Fortuna
is the jewel in the Eel River Valley, and the Redwood AutoXpo is Fortuna's biggest and most well-attended event of the season, a car show fueled by vintage rock 'n' roll, pink poodle skirts, white bobby socks, sunglasses and cool cars that are hot! There will be plenty of classic vehicles on hand. Admission FREE except for the Sock Hop which is $5.00.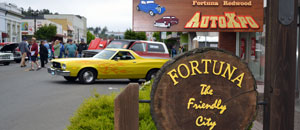 Join Us For Three Days of Cars, Cars and More Cars on Main Street
Experience this great family event and enjoy the
Cruise
, the Swap Meet, the Artisans Faire. Check out the
Judged Car Show
, the Show & Shine Vintage and Exotic event, the Antique Show and the Antique Farm Equipment. The
Poker Run
! Tractor Pulls!
Sock Hop
! Step right up, folks, for the biggest, baddest, most colorful and chromiest event in Fortuna!
Enjoy the Northern California Coast At AutoXpo in Friendly Fortuna
Free Rapid Transit around Fortuna. Food and Refreshments and More! Free Admission to all Events except the Sock Hop. A model for small town America, Fortuna's downtown area has much to offer with over 100 small businesses. The area includes quaint offerings from antique shops to an art gallery to an outdoor cafe and the Farmer's Market. In Fortuna, today and
yesterday
come together in a very special way.